2018 National Chess Day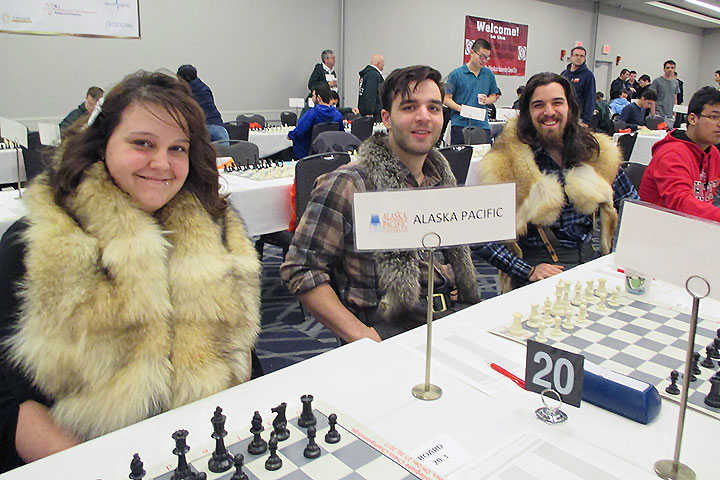 2017 Pan-American Intercollegiate Championship
Photo Cr:1989 U.S. Women's Chess Champion WIM Alexey Root
Happy National Chess Day!
Ten years ago, I would have never guessed my development of skill and love for the game of chess would grow to the levels it has now, with much positive effect. This year alone, has shown some fruits of labor, though by no means represents the years before of work and failures, the final extent of productivity, nor having done it alone-of which I cannot stress enough.
In December of 2017, Alaska Pacific University sent its first chess team to nationals; in April, an Alaskan statewide 501(c)(3) was built as a passionate and collaborative initiative to consult and connect chess across Alaska through enrichment programs in schools and homes with a vision of rebuilding a state chapter for USCF representation; the completion of my bachelor's degree in Liberal Studies included an undergraduate thesis on competency-based education and chess curriculum in higher education, which allowed conduction of a survey to look at potential needs for chess academic programs; the privilege to lead a club of dedicated chess players at APU who worked hard for the coveted Club of the Year award; the nomination and appointment to serve the USCF College Chess Committee as a board member; the winning of the Houston (Texas) City Amateur Chess Championship after a previously failed attempt the year before; the earning of the USCF Advanced Chess Coach certification; the pursuit of a master's degree focused on community needs and university-assisted chess program building through case studies and the creation of a professional development training model of academic credit; and finally the building of a fundraiser on November 10th to raise $5,000 to send the Alaska Pacific Chess team to the 2018 Pan-American College Chess Championships in San Francisco to compete for a second year in a row.
My purpose for this long post is not to say, "Ima show you how great I am!" as exclaimed by Muhammed Ali. There is nothing to prove-well maybe there is one thing. It is to say that chess has been a vehicle of which has carried my spirit forward in life with passion and intertwining my work and education together into meaningful experiences for others I have come across i.e., students, educators, parents, non-chess players and players alike. The positive effect chess has had on my life and observations of others cannot be reduced to the idolatries of a game. Chess is a cultural activity that has spanned across many continents over a very long time.
The initiative of President Gerald Ford on October 9th, 1976 for National Chess Day celebration I hope exemplifies the value chess offers for the enrichment of academics, culture, and human social engagement despite the many diversifying demographics chess and communities face throughout the world. Let's play together.
One Game-One Community.